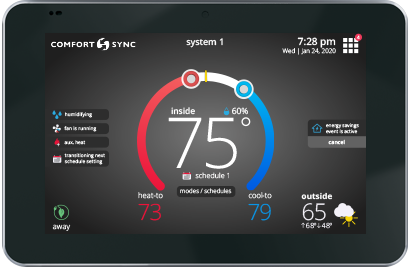 Thermostats are used to turn on heating or cooling systems to bring the home to a set temperature. In addition to basic temperature control, programmable thermostats can be used to manage the indoor environment of your home at different times of the day or week. This type of control can have a dramatic impact on the overall energy use of your home. We carry a complete line of thermostats. Let us help you choose the one that best matches your lifestyle.
Programmable Thermostat Product Offering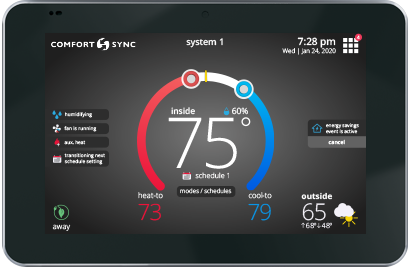 Comfort Sync® A3 Thermostat
View Brochure
Model Family: Comfort Sync® A3
Programmable: Yes
Communicating Capability with HVAC Components: Yes
Remote Access: Enables you to monitor and control temperatures and settings from anywhere in the world
Screen: Bright, high-definition touchscreen
Warranty: 10-Year Limited Warranty on parts.
Manufacturer's Stated Benefits:
When the Comfort Sync® A3 detects that repairs and regular maintenance are needed, it alerts you.
Compatible with Amazon Alexa* and Google Assistant†, the thermostat enables you to fine-tune with a simple voice command
Via GPS in your smartphone to detect when you're leaving and changes the temperature to a more energy-efficient setting
Whenever there's a change in your routine, the thermostat adapts heating and cooling to match.